Live, from your dining room, it's your own TV channel
Column: Mogulus.com does for TV what home-publishing software did for newsletters.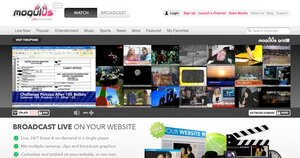 Screen shot of Mogulus.com
During a recent chat, a friend of mine threw out the odd line, "You should watch my son's broadcast this weekend."
His broadcast? I assumed this meant his son was a professional sportscaster or something. No, he said, the kid was only a tween and the broadcast was coming from his bedroom.
"He'll be mixing two or three camera shots with his computers. It's pretty cool."
He has TV cameras in his bedroom? No, he corrected me again, just webcams designed for computers. So how, I asked, was he able to have a "broadcast."
"Mogulus."
At first, I thought Mogulus might have been a 12th century ruler of Persia or something like that. (His son's history project?) My bad. It turns out that Mogulus.com is one of the coolest online Web technologies I've seen in a while. Basically, what programs like PageMaker did for desktop publishing in the '90s, Mogulus is going to do for TV – take it out of the hands of "experts" and give everyone a chance to do their own thing.
Mogulus is a program that allows you to broadcast video on the Internet. Once you register at the site, you can create your own channel. (Mine is My_Kitchen_Table_TV, for instance.)
The Mogulus browser-based studio allows you to create live, scheduled, and on-demand Internet television. (If your cellphone has an Internet connection and a camera, you can even broadcast live on the go.) The software includes a widget that allows you to embed your channel on a regular website, such as your MySpace page.
---