With @ctors, now you can be a star ... virtually
Step 1: Create a 3-D avatar with Big Stage. Step 2: Give it a mohawk and hop into action.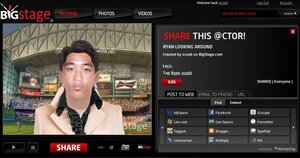 Courtesy of bigstage.com
There's a new type of face-lift procedure in Hollywood – only this one is digital. Big Stage Entertainment, a Los Angeles start-up, will lift your face from digital photos and create a three-dimensional, realistic avatar in your own image. It's a simple process: Take three photographs of your face from slightly different angles, upload them to bigstage.com, and wait a minute or two for the results.
I recently visited the company's offices to try it out, half expecting the result to resemble Max Headroom. But the avatar, while not perfect, was a remarkable likeness. So much so, I wish they could have shaved a couple of pounds off my digital counterpart.
The free online avatars, which the company calls @ctors, can be incorporated into everything from a video game to three-dimensional e-learning environments. In the short term, these 3-D faces could bring a whole new dimension to your Facebook profile. In the long term, Big Stage could facilitate personalized interactive entertainment that allows your digital self to star in, say, an old movie scene alongside Marlon Brando.
"If you could build a little three-minute clip from 'The Godfather,' or whatever your favorite movie is, and put it out as a YouTube film or some other easily sharable video that you could e-mail, put on a blog, or put on a Facebook page, I think that has huge potential," says Daniel Terdiman, a senior writer for CNET news, a technology website.
---