Twitter's secret: the law of unintended consequences
How 'tweet nothings' became a $250 million cultural phenomenon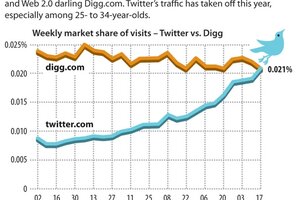 When Stephen Fry was trapped in a broken elevator in London earlier this month, he pulled out his mobile phone and sent a short text to his more than 160,000 "followers" on Twitter.com: "OK. This is now mad. I am stuck in a lift on the 26th floor of Centre Point. Hell's teeth. We could be here for hours."
He even sent a picture of himself to illustrate his predicament. Nearly immediately, many of his "followers" replied to the British actor, author, and comedian with return "tweets" – as the brief, 140-character or less texts are called.
Charmed by the responses, Mr. Fry "tweeted" back, "Your brilliant comments are keeping us all (hysterically) cheerful."
In a Twitter-fied world, no one ever need feel alone or unconnected.
Fry is now the second-most popular individual on Twitter, trailing only President Obama, who has about 250,000 followers. (The Obama "tweets" have gone silent, however, with only one entry since last November. Conversely, Fry has "tweeted" some 1,400 times in the last 200-plus days.)
Twitter has quickly become the preeminent way to go about "micro-blogging," sending short real-time comments to the world (if it's looking) and especially to anyone who signs up as a follower.
When the service was introduced in 2006, it was ridiculed as the latest narcissistic way to waste time online.
---