Ultimate Arm: Capturing action from every angle
The technology behind movie magic.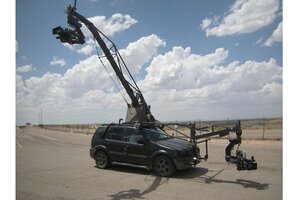 Courtesy of Ultimate Arm
Cars hurtle down a narrow road, inches from the steep cliffs of Italy's Amalfi coast. Shots are fired from the speeding vehicles. After dodging bullets, one of the cars slams James Bond's vehicle into oncoming traffic, which the secret agent narrowly avoids. The action is frantic, but the scenes are smooth and seamless.
To pull off these opening shots from the latest 007 flick, "Quantum of Solace," director Marc Forster called in the Ultimate Arm. This remote-controlled camera crane swings through hectic action scenes with precision, capturing footage from right in the middle of the 60-m.p.h. car chase.
No camera car could do that, says Dean Bailey. As a professional stunt driver, Mr. Bailey navigated the Ultimate Arm (UA) through Bond's high-speed pursuit. More recently, he used it to capture scenes for Mel Gibson's upcoming film "Edge of Darkness."
During a long night of filming last fall in residential Lincoln, Mass., Bailey showed why the UA has become one of the most sought after tools for Hollywood action movies.
The camera crane stretches out from a black Mercedes SUV like a scorpion tail. Instead of a stinger, the 22-foot arm can cradle a film, digital, or 3-D camera at its tip. Weighing up to 650 pounds, the UA can make a complete rotation around a vehicle in less than five seconds.
---