States do a delicate dance with gamers
They lure the industry with incentives, while cracking down on adult content.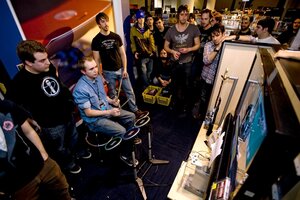 Ann Hermes
For some politicians, video games have been a wonderful target. More than a few lawmakers have burnished their family-values credential by speaking out against the medium as a peddler of smut and gore.
In the past few years, state legislators in California, Louisiana, and Massachusetts submitted or passed bills outlawing the sale or rental of mature games to children. Judges have consistently thrown out such measures as unconstitutional. Just last Friday, a California appeals court struck down such a law. It ruled that targeting violent or sexual video games, while not expanding the law to cover R-rated movies or suggestive books, unfairly singled out the free speech rights of a particular industry. California lawmakers vow to continue the appeals process.
Yet some signs indicate that the relationship between politicians and the industry is getting a bit cozier. About a dozen states are now wooing video-game companies to their cities. Enchanted by gamemakers' big budgets, high-skilled jobs, and purported resistance to recessions, state lawmakers are backing legislation that aims to attract a bigger slice of the $22 billion industry.
"Games are still a little challenging [for some politicians]," says Dennis McCauley, editor of the blog GamePolitics.com. But "at the state level, politicians are really sitting up and taking notice of what video games can do for their economies."
During a recent trip to the West Coast, Gov. Deval Patrick (D) of Massachusetts pitched his state as the East Coast hub of gaming technology. Canadian officials have actively courted video-game designers and publishers with tax incentives of up to 40 percent and 37 percent salary subsidies.
---