Cautionary tales from the social-networking universe
Column: Cybercrooks shadow Facebook and other sites in order to steal from individuals and companies.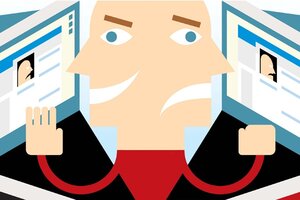 Martin Gee/San Jose Mercury News/MCT/NEWSCOM
Ah, social networking. It's become the fabric of today's Internet generation. Don't have a Twitter account? Heavens, even Sen. John McCain has a Twitter account. Signed up with Facebook? Only losers don't have a Facebook account. MySpace? Not bad, but it's so five minutes ago.
But as lovely as social networking may be, there are a few problems. One of the biggest appears to be that you can kiss your privacy good-bye.
Now, I'm not talking about the predilection of some people to share intimate details about themselves on social networking sites. I'm actually referring to the other things that might help contribute to your financial ruin.
Those most enthusiastic about social networking are cybercriminals. They drool at the prospect of seeing the personal information of the 175 million people on Facebook. And they know how to use that information.
For example, cybercrooks take great interest in the names of pets or grandparents on Facebook pages. That's the kind of information that banks and credit-card companies use to verify who you are when you bank online.
"There are so many people on social-networking sites that it is becoming profitable for bad guys to go there," David Perry, global director of education at software security firm Trend Micro, recently told Agence France-Presse (AFP). "Bad guys can see all the things you post. You may be revealing personal information that is extremely valuable."
---