WiMAX challenges Wi-Fi
This young tech weds the ease of Wi-Fi and the range of cellphone towers.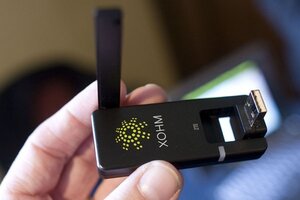 Chuck Kennedy/MCT/Newscom
When most people hear "wireless Internet," they think "Wi-Fi." The technology has allowed millions of computers and mobile devices to browse the Web without the snarl of cords.
But there's another wireless standard out there – one that's arguably more tempting if it can get its act together.
WiMAX delivers the Web similar to Wi-Fi, but covers wide areas like a cellphone tower. While the range of a Wi-Fi router is measured in yards – enough to blanket a house or office – WiMAX can broadcast for miles.
This added range has attracted interest from local governments looking into citywide wireless networks.
Several early citywide Wi-Fi plans were abandoned because they underestimated the cost of installing enough hot spots. But with WiMAX, "Instead of needing 20 or 30 Wi-Fi access points per square mile, you need one," says Craig Settles, an independent wireless analyst. And many cities won't need to brainstorm creative places to stick a WiMAX antenna, because it can be attached to current cellphone towers.
Sprint rolled out a pilot WiMAX program in Baltimore last year. The network delivers average download speeds of two to four megabits per second, half the rate of cable Internet but several times faster than the 3G mobile service used by many of today's smart phones, according to Sprint's tests. The company plans to introduce WiMAX in 10 American cities this year and five more in 2010.
---