Symphonies gingerly embrace digital performers
Pushed to cut costs and attract new audiences, some experiment with laptops.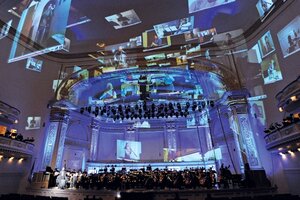 Stefan Cohen/Courtesy of YouTube
Every season at your local concert hall, the drill is the same: Musicians tune up their instruments, a conductor walks onstage, taps a baton, and works of past compositional masters spring to life.
This scenario has not been tampered with for centuries, a fact that many cherish and others lament about the symphonic experience. Now, threatened by the high costs of producing orchestral concerts, shrinking endowments, an aging subscriber base, and the slashing of music curriculums across the country, which diminishes the role of music in young people's lives, classical music has arrived kicking and screaming into the Digital Age. Computers are helping change the way people make, perform, and listen to symphonic music.
"Orchestras are floundering," says Greg Bowers, a composer who teaches music theory and composition at the College of William & Mary in Williamsburg, Va. "They want to fill seats desperately. A lot of them are cowering, they're afraid to do anything that may challenge the audience. Their patrons are older and less amenable to new things. So you have this incredible, aesthetic bind."
Because it's so difficult to have new symphonic works performed, composers increasingly turn to technology, where software can replicate acoustic instruments and perform an entire score without the need of a single, live musician. In the past, digital technology was used only to help the composer develop a work before it was submitted to a conductor for consideration. However, as concert seasons provide less room for new work and soloists yearn to perform works with an entire orchestra, computers are filling the void.
---