National World War II Museum: Bringing the battle to life
The New Orleans National World War II Museum uses immersive tech to boost teaching power – and also entertain.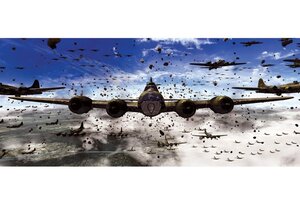 The National World War II Museum
There are those who served at the battlefront and witnessed first-hand the ugliness of war. And there are the rest of us who experience it from behind exhibition glass.
This month in New Orleans, however, The National World War II Museum is opening the doors to a new $60 million complex that will feature as its centerpiece a 35-minute film designed to virtually transport viewers 70 years into the past through technology marketed as "4-D cinematics," including special lighting, fog, stage snow, moving props, surround sound, and digital animation.
Immersive film experiences are usually reserved for wide-screen nature documentaries at science museums or concert films featuring megabands like the Rolling Stones or U2. "Beyond All Boundaries," the film that will run in perpetuity in New Orleans at the 250-seat Victory Theater, is the first designed to teach history, in particular of a war about which most Americans remain especially reverent.
Turning to Hollywood to accomplish what history exhibitions did in the past is a trend that the museum establishment is finding a lot harder to ignore. Advances in media technology and a concern about reaching younger generations are forcing museum curators to think about moving past found artifacts and into the virtual realm, which is more interactive and offers the opportunity to present multiple perspectives of a single event or issue.
Museum consultant Josh Feinberg, who helped develop exhibitions for New York's Metropolitan Museum of Art and the Solomon R. Guggenheim Museum, says that museums are "realizing they need to kind of keep up and remain attractive in this media-heavy world" and that often creates "a blurring of lines between education and entertainment."
---