Julia Child's first recipe: shark repellent
Before becoming a celebrity chef, Julia Child, whom Google is celebrating on her 100th birthday, worked for the clandestine Office of Strategic Service, where she first put to use her latent culinary skills.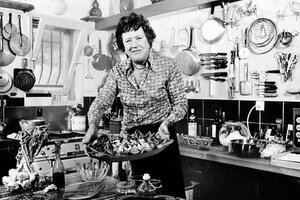 AP/File
Ever since 2008, when the National Archives released thousands of documents about Julia Child's time at the Office of Strategic Services during World War II, the television chef has been America's most famous secret agent this side of Nathan Hale. And, as the Monitor's Chris Gaylord notes, compared to the young Continental Army lieutenant, Child was a pretty effective spy.
What is less well known is what Child actually did while working for the OSS, a wartime precursor to the Central Intelligence Agency. Like any good spy, Child described her work as 'clerical,' a term that doesn't begin to hint at how she would put her latent culinary skills to use in the service of her country.
According to the CIA's website, the Navy had a shark problem. Efforts to use undersea mines against German U-boats were hampered by curious sharks that would bump up against the explosives, much to the detriment of both the sharks and the US war effort.
And, as anyone familiar with the awful story of the USS Indianapolis knows, sharks also posed a grave danger to American sailors. Here's how Child explained it to Russ Parsons, food editor at the LA Times, as recounted in a 2008 blog post.
---