Online dating on the go: Apps shake up traditional dating websites
Why users have fallen in love with online-dating apps.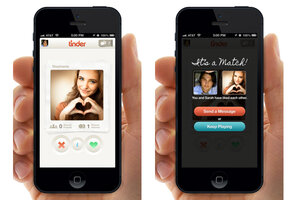 Tinder/iTunes
For many people, dating was once about love at first sight. But now, with the creation of dating apps for smart phones, it's become easier for people to fall in love at first tap.
Tap of the phone, that is.
"Apps are the new rage," says Julie Spira, a leading online dating expert and author of "The Perils of Cyber-Dating: Confessions of a Hopeful Romantic Looking for Love."
Ms. Spira, who has made a career out of helping singles improve their online profiles, says apps such as Tinder are "popping up everywhere."
"It's like a game," she says. "It's a fun and easy way to meet someone really on the fly, same day and same night."
Roughly 40 million people in the United States use some form of digital dating, according to online dating site Match.com.
Tinder, which launched in October, is a free anonymous dating app that "matches" people with other users within a 30-mile radius based on mutual interest and mutual Facebook friends.
Alexa Mateen, the social media director at Tinder, says the beauty of Tinder is that it is "kind of a second chance to meet people you wouldn't naturally meet."
"There's nothing too binding about it," says Ms. Mateen. "What's scary about other websites is people were afraid and embarrassed to be on it."
From friendships to relationships, Tinder is whatever people want it to be, she says. The app shows users other users who are interested and then it's up to them to make the virtual first move.
This type of dating is increasingly becoming norm.
"There's something beautiful about meeting someone without any technology," Ms. Mateen says. "But at this point I think [digital dating] is the closest thing to meeting someone naturally."
Online dating is one of the ten industries that will be affected by smart phones the most, according to market research group IBISWorld.
---