Claude Debussy: The story behind Google's 'moonlight' doodle
Thursday's Google Doodle remembers French composer Claude Debussy with an animated scene featuring music from Clair de Lune.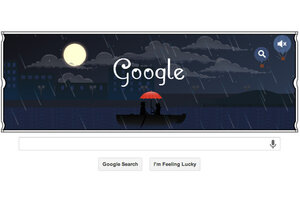 Google
The dark Paris skyline is punctuated by flicks of yellow light from lamps and houses. A classic car drives along the shores of the Seine and a steamship emits white puffs of smoke as it chugs along in the night. Two boats gradually appear alongside each other, the silhouettes of a man and a woman gradually appear, rowing in the same direction. A soft and steady rain starts, the boats sync courses as the two rowers share a candy apple red umbrella, their course lit by the glow of the moon, their movement in tempo with Claude Debussy's "Clair de Lune."
Today's Google Doodle honors the late French composer Claude Debussy with a cartoon of Paris, illuminated by the moon, a tribute to Mr. Debussy's best-known work "Clair de Lune," which is French for "moonlight."
Debussy was born on August 22, 1862, in Saint-Germain-en-Laye, a northwest suburb of Paris. He was the son of a china shop owner and the eldest of five children. Though the family did not have a lot of extra money, Debussy enrolled in piano lessons at age 7. After showing an early affinity for music, Debussy entered the Paris Conservatory when he was 10 and studied there for 12 years. After completing his studies, Debussy traveled through Europe working as a composer and instructor.
---