China hit by massive Web attack this weekend
Over the weekend, .cn – the Chinese equivalent of .com – went dark, according to reports by the China Internet Network Information Center.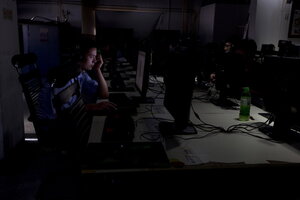 Ng Han Guan/AP/File
Every website that uses the .cn suffix was inaccessible for several hours over the weekend, the result of "the largest ever" hack on Chinese sites, according to the China Internet Network Information Center (CNNIC).
The attack began on Sunday at 2 a.m. local time in China and lasted approximately two to four hours, according to a CNNIC announcement, accessed via Voice of America. Chinese officials identified the incident as a distributed denial of service attack (DDoS), where servers get overwhelmed by a coordinated network of computers. During the attack, any computer that tried to access a .cn website got an error message.
Before malicious coders can launch a DDoS attack, they must infect the computers of unsuspecting users, often by tricking people into installing malware on their computers. The malware can then be coordinated to attack a website or network, and an off-site controller can launch the attack at his or her choosing, flooding the servers with a stream of hits. This effectively causes the site to collapse, or at least become useless for a few hours. Though the .cn domain was down, many service providers store parts of the online registry, so some .cn websites could have still been accessible to users, according to CloudFlare, an online content delivery network. Furthermore, the relative ease of spreading viruses means that the attack could have been perpetrated by an individual.
---