Batman: Arkham Origins review roundup
Batman: Arkham Origins is the first game in the franchise to be developed by Warner Brothers Games Montreal. So does it live up to the Batman name?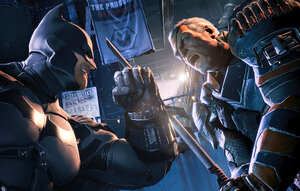 Warner Brothers
Batman: Arkham Asylum and Batman: Arkham City are two of the most critically-acclaimed video games of all time, and for good reason – both titles dexterously blended third-person combat with puzzle-solving in a well molded, visually impressive worlds. The third title in the series, Batman: Arkham Origins, moves back in time, and takes place shortly after Bruce Wayne first donned the cowl.
This is also the first Arkham game to be developed by Warner Brothers Games Montreal, instead of Rocksteady, which handled both Asylum and City. Batman: Arkham Origins debuts this week on the Xbox 360, PlayStation 3, and Nintendo Wii U. Is it any good? Well, let's go to the reviews.
The opening shot
"Arkham Origins emerges as a remarkable game that adeptly adheres to Rocksteady Studios' winning template," argues Scott Butterworth of Xbox Magazine. All the disparate parts – from combat to detective work to gliding and grappling around Gotham – feel just as expertly executed as they always have. And above all else, Origins manages to capture the single fundamental element that defines the franchise by making us feel like Batman – not some mindless action-game facsimile but the Dark Knight himself."
The plot
---