Nonprofit slips in race for cheap laptop for world's poor kids
Problems at One Laptop Per Child show how social entrepreneurs can blaze trails but miss the payoff.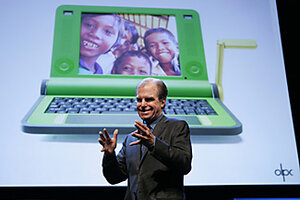 Paul Sakuma/AP
The vision was grand: Develop a cheap laptop and get it into the hands of 150 million school children in the developing world.
Making the computer turned out to be the easy part. On Wednesday at the Consumer Electronics Show in Las Vegas, Nicholas Negroponte, founder of One Laptop Per Child, showed off the $200 XO. The innovative computer sports a bright screen readable in sunshine and a highly efficient battery that can be recharged by cranking it.
But One Laptop has run into controversy – a corporate partner and the group's chief technology officer pulled out in recent weeks – which has experts noting perils for the broader social entrepreneur movement.
Social entrepreneurs, who aim to solve social problems using business-world principles, have tackled everything from expanding rural credit to marketing indigenous crafts in recent years. But experts say the problems at One Laptop point to a challenge for these emerging entrepreneurs. They often excel at trailblazing new markets among the world's poor but struggle to achieve large-scale sales and distribution.
"In many respects, these social entrepreneurs are pathfinders, they are like the research and development for bigger players that have otherwise ignored the bottom of the pyramid market," says James Koch, a professor at Santa Clara University in California.
For example, One Laptop's XO has proven the concept of cheap laptops. Companies like Lenovo and Intel, sensing the market potential, are now working on their own models. This isn't necessarily bad for One Laptop's ultimate goal.
---