On the horizon: News from the frontiers of science.
Polar ice meltdown continues, scientists find source of galactic antimatter, new palm tree's crown is its own undoing.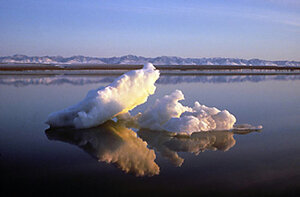 Reuters
meltdown continues at North and south poles
Polar ice is undergoing significant changes at the top and bottom of the globe. Two new studies are yielding insights into those changes, which have long-term implications for climate and sea level.
In Antarctica, an international team of scientists reports that between 1992 and 2004, the rate at which the continent's icecap is losing mass to the oceans increased by 75 percent. The team notes that while increased snowfall in Antarctica's interior has added mass to the icecap's interior, those gains have been offset by the rate at which the flow of glaciers into the ocean has accelerated. The results appear in the current issue of the journal Nature Geoscience.
Up north, another team has analyzed trends in the all-important "old" ice floating in the Arctic Ocean. Much of the oldest, thickest ice has vanished, replaced with multiyear ice that is only two to three years old. This thinner multiyear ice accounted for 35 percent of multiyear ice in the mid-1980s, the team estimates. It now accounts for 58 percent of the multiyear ice.
If this trend toward younger, more-fragile multiyear ice holds, the team says, we're likely to see more episodes of dramatic summertime ice loss like the record loss that occurred in 2007. The results appear in a recent issue of the journal Geophysical Research Letters.
---