Tech roundup: Blu-Ray to best HD DVD in format wars?
Reports that Toshiba will halt production of its high-definition video format leaves analysts declaring Sony the victor.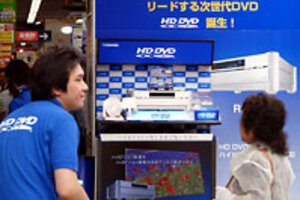 Katsumi Kasahara/AP/File
Toshiba may halt production of its HD DVD format for high definition video, a move that would leave Sony's competing Blu-Ray technology victorious in the next-generation video format wars.
Following earlier reports by the Japanese public broadcaster NHK, Reuters reported Saturday that Toshiba will cease manufacturing HD DVD equipment:
A source at Toshiba confirmed an earlier report by public broadcaster NHK that it was getting ready to pull the plug.
"We have entered the final stage of planning to make our exit from the next generation DVD business," said the source, who asked not to be identified. He added that an official announcement could come as early as next week.
No one answered the phone at Toshiba's public relations office in Tokyo.
Other news reports are less definitive. The BBC reports that Toshiba has yet to decide:
"There have been media reports that Toshiba will discontinue its HD DVD business," a Toshiba spokesman said.
"In fact, Toshiba has not made any announcement or decision. We are currently assessing our business strategies, but nothing has been decided at the moment."
---