The MySpace crowd gets chummy with Chumby
Once a sci-fi dream, the Wi-Fi home is within reach, thanks to a menagerie of new cuddly gadgets.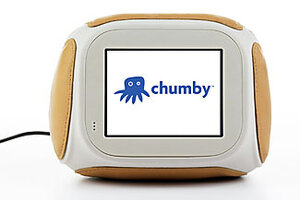 courtesy of chumby industries
Chalk it up to quirkiness. When the Chumby – a small, square mound of Wi-Fi enabled plastic – first hit shelves, gear geeks voiced skepticism about the gadget's raison d'être. After all, the Chumby, priced at $180, performs many of the same functions of a plain old computer, from tracking baseball scores and browsing Facebook profiles, to streaming Internet radio. And it offers few functions that aren't duplicated on other household appliances. One blogger wrote off the product as a "glorified alarm clock."
But since its February release, the Chumby has sold surprisingly well, boosted by a burst of blog buzz. There are now a variety of Chumby accessories, or "charms," which can hang on the outside of the device. In late March, Chumby Industries, the device's manufacturer, announced that it had secured $12.5 million in additional funding. The influx of cash, Chumby executives say, will allow them to continue building the online Chumby Network – and maybe pave the way toward a Wi-Fi home.
So what's behind the success? On one hand, says tech journalist Glenn Fleishman, the brains over at Chumby have been very smart about their marketing techniques.
The Chumby's circuits are enclosed within a plush shell – like a miniature monitor wrapped in a beanbag. Its graphics are conspicuously cute; its mascot is a blue octopus with round, cartoon eyes.
"It fits perfectly into the [age] 14 to 25 demographic and it's well within the budget of many teenagers," says Mr. Fleishman, who runs wifinetnews.com.
In this way, the Chumby is similar to the Nabaztag, a rabbit-shaped Wi-Fi device that delivers weather forecasts and news headlines and lets users know when e-mails or fresh RSS feeds have arrived.
---