Creative writing for extraterrestrials
A college class, funded by a NASA Space Grant Consortium, contemplates what to say to E.T.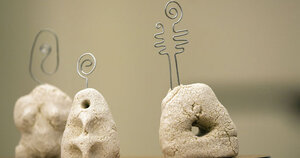 Courtesy of Ted Brummond/UW Photo Service
On the windswept campus of the University of Wyoming, spring is struggling to arrive, students are fighting their way through finals, and Jeffrey Lockwood's creative writing class is grappling with how to talk to aliens. And they're not kidding.
"So, what this is really about is a cosmic first date?" Professor Lockwood teases the class. "You want to look good, but not fake?"
His 11 students, gathered for their final meeting of the semester, are discussing how to describe humanity to other civilizations. Should they put our best collective foot forward, and tell stories that illustrate altruism and romantic love? Should they also explain lying and warfare?
There are no easy answers. "I leave here with a headache a lot," says graduate creative-writing student Christina Ingoglia. "We're always constructing our audience. We can't assume a basic understanding of language – we can't assume anything."
During one of the semester's first classes, Lockwood asked the students to summarize the human condition in 250 words, then 50, then 10. While some students chose the poetic – "We are an adolescent species searching for our identity," wrote English major Ann Stebner – Ms. Ingoglia stuck with the anatomical. "Two arms, two legs, head, torso, symmetrical," she thought, would be a safer way to introduce humanity to an unknown world. "Then I realized that we're sending out all sorts of messages anyway, through radio waves," Ingoglia says, and she got bolder.
One of her projects, a series of fictional eulogies, takes a core sample of human diversity, describing the lives and deaths of an infant, a drag queen, an American soldier, and others through the eyes of loved ones.
---