With Phoenix mission, water hunt to resume on Mars
The lander is scheduled to touch down on the red planet Sunday, marking a turning point in the exploration program.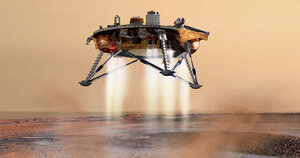 JPL/NASA/Reuters
For a decade, the US space program's mantra for Mars has been "follow the water." Now, the Phoenix Mars Lander is poised to reach out and touch it.
On Sunday, NASA's latest Mars mission is scheduled to touch down on the red planet, marking a turning point in the program. Previous missions have gathered a wealth of data on water's role in shaping the climate and landscape of ancient Mars. The Mars Phoenix Lander, by contrast, is looking for water's presence and effects today.
Water is a key ingredient for organic life. While the lander – a chemistry lab on a platter – is not equipped to look for life directly, it is packed with hardware to scratch beneath the surface into Mars's version of Arctic permafrost. One major goal: to see if this area of the planet could be a suitable habitat for simple organisms.
"The polar regions are where we can understand recent processes, recent climate change, and potential habitability," says Peter Smith, a senior research scientist at the University of Arizona and the mission's lead investigator.
Previous missions have landed in areas carved by ancient flows and laden with water-formed rocks and minerals, he explains.
For instance, the team working with the rovers Spirit and Opportunity far to the south of the Phoenix landing site reported Friday that Spirit has uncovered deposits of virtually pure silica. Silica forms as volcanic steam or hot water wells up through the crust. The deposits are similar to those found in Yellowstone National Park, the team says. On Earth, such deposits often bear fossil remains of microbes. The results appear in Friday's edition of Science.
---