With new telescope, a fresh view of the cosmos
The gamma ray telescope, slated to launch soon, could yield insights into such mysteries as dark matter.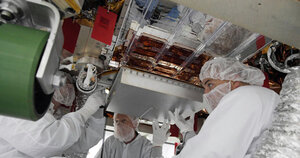 Kim Shiflett/UPI/NEWSCOM
A spacecraft called GLAST is set to open a new window on the high-octane cosmos.
The orbiting observatory, designed to detect high-energy gamma rays, is slated for launch perhaps as early as June 11. It's designed to explore the most energetic, exotic phenomena the universe has to offer. These range from tight beams of particles hurtling across vast distances from the center of young, active galaxies to the more fleeting gamma ray bursts thought to occur when neutron stars collide or an exploding star collapses to form a black hole.
Compared with the often sedate views of stars and galaxies astronomers gather through optical telescopes, "with GLAST, it's like the Fourth of July all over the sky," says Peter Michelson, a physicist at Stanford University in Palo Alto, Calif.
GLAST, or Gamma-ray Large Area Space Telescope, may also yield new insights into the nature of so-called dark matter, which constitutes 80 percent of matter in the universe. In principle the data GLAST collects could also provide a test of quantum theories of gravity – the missing link in efforts to demonstrate that the four forces of nature are low-energy manifestations of one unified force present at the universe's birth.
A project across borders
The $690 million mission represents a deepening collaboration among astrophysicists and particle physicists.
---