Will US-Russia tensions extend to space?
Without Russia, NASA couldn't send astronauts to the space station between 2010 and 2015.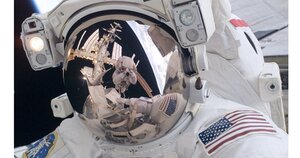 NASA/AP
International cooperation in human spaceflight may be facing its toughest test since the cold war.
The immediate concern: Will US astronauts be able to ride Russian rockets between 2010, when the last shuttle is retired, and 2015, when the National Aeronautics and Space Administration expects to launch a replacement?
Russian spacecraft are how NASA plans to send its astronauts to the International Space Station. But with tensions rising over Russia's invasion of Georgia and a US-Polish missile deal, some lawmakers and space-policy analysts worry that the US Congress – or Russia itself – could scuttle the plan. If tensions fail to ease over the longer term, the space station could shift from an orbiting laboratory to a geopolitical bargaining chip.
The possibility that international tensions could limit US access to the space station for at least five years "is a real concern," says Ray Williamson, an analyst with the Secure World Foundation, a space-policy think tank in Superior, Colo. But the notion that the US needs an alternative right away is a bit premature, he adds.
---