Will lasers brighten nuclear's future?
New process could replace centrifuges but renew threat of nuclear proliferation.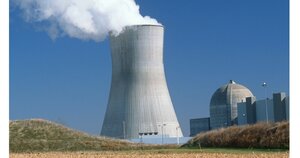 NEWSCOM
Inside a bland industrial building in Wilmington, N.C., an experiment is in the works that could vastly reduce the cost, time, and space needed to make fuel for nuclear power plants and, some nonproliferation experts say, for nuclear bombs as well.
In that building, secret uranium-enrichment technology licensed by GE-Hitachi Nuclear Energy is nearing a pilot test. If successful, the new technology will enable the company to supply low-cost nuclear fuel to power reactors worldwide, officials say.
Only broad outlines of the "Separation of Isotopes by Laser EXcitation," or SILEX technology, are public. Most details are classified under the Atomic Energy Act.
But it would not take much – just a signal from Wilmington of SILEX's success in the months ahead – to unleash a global push by companies and nations to develop similar laser-based technology, nonproliferation experts, scientists, and US government studies warn.
"The threat is there," says Edwin Lyman, a nuclear nonproliferation expert with the Union of Concerned Scientists, a research and advocacy group in Cambridge, Mass. "If [GE-Hitachi] succeeds in overcoming remaining technological hurdles, the resulting laser-enrichment would be extremely vulnerable to proliferation. It's also a technology that several countries would likely pursue."
---