As a massive atom smasher powers up, 'Big Science' moves away from the US
The first trial of the Large Hadron Collider on Wednesday signals a shift to Europe of high-energy physics.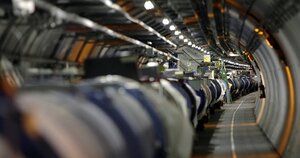 Martial Trezzini/Keystone/AP/FILE
Physicists worldwide are expected to celebrate Wednesday's start-up of the world's most powerful particle accelerator, the 17-mile-long Large Hadron Collider (LHC), which straddles the French-Swiss border.
For many scientists, including a large contingent from the United States, the project represents a success story for international cooperation on "big science." But it also serves as evidence that the center of gravity for high-energy physics has shifted away from its post-World War II home in the United States.
The shift coincides with a broader US debate over whether the nation is in danger of losing its edge in science, technology, and innovation, notes David Goldston, a visiting lecturer at Harvard University who specializes in science policy.
In some ways, this could serve as a high-profile test of the notion that the emergence of cutting-edge labs outside the United States necessarily comes at the US's expense, he suggests. "The US has had the lead in facilities for a long time; now it won't," he says.
But, Mr. Goldston adds, US scientific and engineering contributions to the LHC have been significant. And several university-based researchers in the US note that even though the big show has shifted overseas, they are still seeing an increase in the number of students walking through their doors who want to help explore the frontier the LHC is expected to open.
---