With black holes, astronomers learn to go with the flow
Column: They gain new insights on black holes and distant nebulas by tracking the path of stars and interstellar gases.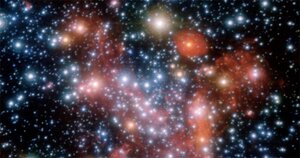 S. Gillessen et al./ESO
When astronomers can't observe a phenomenon directly, they sometimes try to go with the flow. Like the flow of interstellar gases that help point the way cosmic winds are blowing. Or there's the flow of orbiting stars that give insight into the unseen black hole at the center of our galaxy. New research on both flows shows how this indirect approach pays off.
It has taken 16 years of persistent study to get a more accurate fix on our Milky Way galaxy's mysterious central black hole known to astronomers as Sagittarius A. A black hole is so dense not even light can escape from within it. But by following the motion of 28 stars orbiting it, Stefan Gillessen at the Max Planck Institute for Extraterrestrial Physics in Germany and an international research team have pinned down the mass and distance of Sagittarius A with unprecedented accuracy. The team determined it's 27,000 light years away and weighs in at 4 million times the mass of our sun.
The details of how the team worked this out are explained in the Astrophysical Journal and in an announcement this week from the European Southern Observatory (ESO) headquarters in Garching, Germany. Observations made over 16 years with various instruments, including infrared light to penetrate obscuring dust clouds, have gone into the present calculations. As the precision of the measurements has increased, so, too, has confidence in the accuracy of the calculations. That precision now is equivalent to "seeing a one euro coin [about the size of a US quarter] at a distance of roughly 10,000 km," according to the ESO's announcement.
---