A year to celebrate the achievements of Galileo and Darwin
Column: Anniversary events mark discoveries in astronomy and evolution.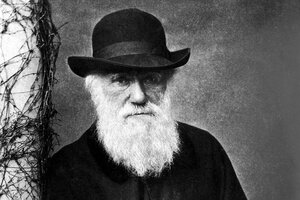 Corbis
This is a year of celebrations for the world's scientists. Biologists remember Charles Darwin, whose 200th birthday falls within this month. November marks the 150th anniversary of his seminal book "On the Origin of Species." Astronomers honor Galileo, who made the first telescopic observations of celestial objects 400 years ago this autumn.
But while scientists whoop it up for their historic heroes, they want fellow citizens of the world to join the festivities. The aim, they say, is to share the wonder and insights of their science with all humanity.
Astronomers kicked off the International Year of Astronomy last month with a symposium in Paris. The "year" includes events organized around the world, such as well-illustrated presentations and lots of eyeball-to-telescope public viewing and Internet-accessible cosmic images. The logo branding these events proclaims "The Universe: Yours to Discover." If you want to join the fun and download that logo explore the website at astronomy2009.org.
There will likewise be many ways to celebrate Darwin's bicentennial. The high point will be a five-day festival of science in July at the University of Cambridge in England. When a similar three-day science festival was held there at Darwin's centenary in 1909, you had to be there to enjoy it. But thanks to the Internet, much of this year's festival can be shared globally. Check out the website at www.darwin2009.cam.ac.uk.
---