Kepler mission to hunt for planets just our size
The US will launch the Kepler spacecraft Friday to look for other Earths.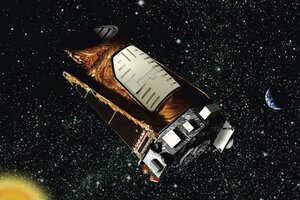 NASA/AP
The United States is scheduled to launch on Friday an orbiting telescope designed to help answer one of the oldest and deepest questions of astronomy: Are we – or at least our planet's microbes – alone in the galaxy?
The Kepler spacecraft will stare at a patch of sky – the same 100,000 stars near the northern constellation Cygnus, all at once – for at least 3-1/2 years. The goal is to detect Earth-like planets orbiting their host stars at distances thought to be sweet spots for life.
Dubbed habitable zones, these are orbits where a planet is bathed in light that is strong enough to permit liquid water to collect and remain a persistent feature of the planet's surface.
If all goes well, Kepler's journey will start with the launch from Cape Canaveral in Florida at around 10:49 p.m. Eastern time.
For planet-hunting astronomers, the $591 million Kepler mission promises to cross what they've dubbed the "Great Divide" that separates the decidedly uninhabitable planets they have found so far with the Earth-like ones they seek.
During the past 15 years, ground-based telescopes have detected more than 300 so-called exoplanets – planets that are beyond our solar system. But these discoveries have involved a bizarre menagerie of objects ranging in size from 10 times Jupiter's mass to nearly Earth-scale planets.
---