Common signs that life is built to survive, from humans to bacteria
Column: Links between man and microbe, and how life can survive in unexpected places.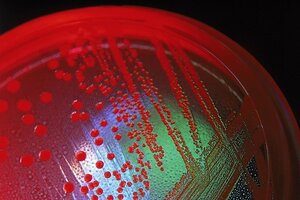 NEWSCOM
Scientists studying the robustness of organic life have found some unexpected capabilities in nature. For one research team, it's the ability of former light-loving and oxygen "breathing" marine microbes to make do with only iron and sulfur when shut up in a nasty place. For another group, it's the realization that a common construction strategy underlies most, if not all, of Earth's plants and animals. This similarity could be an advantage in adapting to a wide variety of environments and changing circumstances.
"The big idea is that cells, tissues, and organisms hailing from all limbs of the tree of life respond to stimuli using basic biological 'modules,' " says a recent announcement from the University of California at San Diego.
As UCSD bioengineer Adam Engler and colleagues explained in an overview report in Science, "module" means the way biological functions come together to allow individual living cells to form larger structures. This includes how structures such as weight-bearing bones are built in responses to external forces.
When Dr. Engler looks at these ways that cells stick together, he sees that they are fundamentally similar in humans and bacteria. According to the UCSD announcement, he thinks that this shows there is something inherent in nature.
That's thinking outside the traditional research boxes. It's insight that has come from such diverse experts as stem cell biologists, engineers, and mathematicians working together. Engler says that "we have arrived at an interesting way to describe known biological processes and bring concepts together that are traditionally not considered."
---