Your idea, "printed" in 3-D
A new layering process renders prototypes that pop.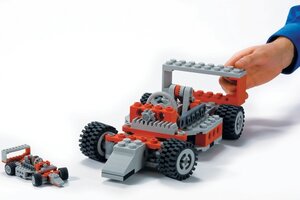 Photo courtesy of Z Corporation; Illustration below by Lisa Haney
In television's "Star Trek," the crew used "replicators" to instantly create anything from Earl Grey tea to engine parts. For modern science, that remains something of a frontier. But Z Corporation in Burlington, Mass., is working on a real-world variation that comes stunningly close.
The company stands among the early players in 3-D printing, in which engineers load up a schematic of what they want, feed in some plastic, and watch a machine print out a fully formed model – complete with moving parts.
At its heart, this style of "rapid prototyping" relies on a simple concept: building an object one cross section at a time, similar to laying down LEGO bricks to make a larger shape.
The field is still very young, says Scott Harmon, vice president of business development at Z Corporation. Several companies make these three-dimensional printers, the cheapest of which sells for about $10,000.
Despite a wide array of potential uses, interest and investment has been slow because "even designing a door hinge is pretty difficult," says Mr. Harmon. What's missing is the "killer app" – the thing that will give 3-D printing companies a reason to mass-produce. "You'd need to have some reason to want to make something you couldn't get in a store."
---