The hunt for astronomical gold in familiar phenomena
Column: Especially when it comes to outer space, there's a lot to be learned from reexamining old science.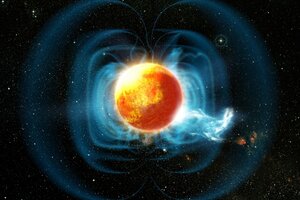 Gemini Observatory/Dana Berry, SkyWorks Digital Animation
While astronomers always hope to find exotic new phenomena, they know it pays to take a fresh look at things well known. Three recent examples make this point.
Cosmic measuring tape
A search of previously published observations has come up with a better way of measuring some cosmic distances. Ofer Lahav at Britain's University College in London said it "will have profound implications
for understanding the basic properties of our universe."
Dr. Lahav explained in the journal Nature that such measurements can help refine our understanding of the distribution and makeup of the cosmos. He was commenting on a study published in a astrophysical journal. Lead author Jonathan Bird of Ohio State University then updated the research in early June at a meeting of the American Astronomical Society in Pasadena, Calif.
---