Make way for the micro mobiles
US automakers think small in a downsized economy.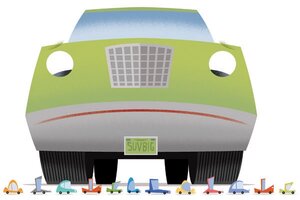 Bob Staake
In a crippling recession, McMan­sions, Hummers, and supersize are jargon from the recent past.
But for the US automotive industry – damaged by foreign competition, rising gas prices, and hesitant consumers – "small" might be getting even smaller. Microcars loom large on the horizon, as many companies are investing in, or at least considering, lightweight, economical, and quirky vehicles that are most often associated with zigzagging down European side streets – not keeping pace with semi trucks as they barrel down US highways.
"The advantages are many: They're inherently low-cost in terms of upfront costs, they're very simple so they can be affordable, and they can be extremely energy-efficient," says Christopher Borroni-Bird, director of advanced technology vehicle concepts at General Motors. Dr. Borroni-Bird is helping develop the Personal Urban Mobility and Accessibility (PUMA), a two-wheeled electric vehicle based on the Segway scooter.
"Because cities are struggling with how to provide people with personal mobility in general, there's been a real need to come up with a creative solution," he says.
Smaller than even subcompacts, the microcar is slowly trickling into the US market as automakers experiment with just how far American consumers will go in sacrificing power and luxury for a lighter car that costs less. The bankruptcy filings of General Motors and Chrysler are forcing US automakers into a new era of experimentation, where the right combination of unusual design and alternative power is the new paradigm of competitive edge.
---