How much water is on the moon?
Scientists knew there was water on the moon before NASA crashed a craft into the lunar soil.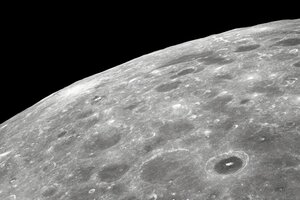 AFP/NASA
Streams of electrically charged particles from the Sun and outer space are turning out to be major players in our solar system's cosmic drama. They help shape planetary atmospheres, sterilize exposed surfaces, and even bring possibly life-supporting oxygen to an icy Jovian moon.
In their latest act, solar protons (the nuclei of hydrogen atoms) allow our own supposedly arid moon to make enough water every day to offset evaporation and maintain trace amounts of moisture all over its surface. Forget those bone dry textbook images. In September, several research teams made the case for a damp moon in Science online. A decade of data from several spacecraft showed water concentrations up to a liter per ton of lunar "soil". The European Space Agency (ESA) confirmed that finding with a study of its own announced last month. That's still pretty dry. But MIT planetary scientist Benjamin Weiss says that, given it might be easy to recover the water, "I think this makes it a promising resource for astronauts."
---