Charities want you to text in your donation. Does it work?
Texting a donation took off after the Haiti earthquake. But some question whether the phenomenon will last.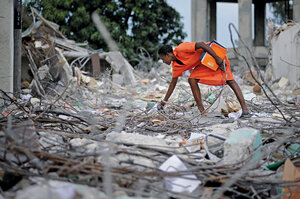 Mary Knox Merrill/Staff/File
In 2008, United Way bought a sliver of airtime during Super Bowl XLII for an ad highlighting the charity's youth fitness initiative. By the high-gloss standards of Super Bowl spots, this one was pretty spare: 10 seconds of black and white animation, a sobering statistic on childhood obesity, and an exhortation from New England Patriots quarterback Tom Brady. Unlike most televised appeals, United Way did not list a hot line number. Instead, the charity asked viewers to pick up their cellphone and send the word "FIT" to a six-digit number; for each text message received, the viewer's cellphone would debit $5 from his or her account.
At the time, text-message giving was considered problematic. Any group interested in soliciting donations via text would need to negotiate, simultaneously, with a wide range of cellphone carriers. Red tape abounded. "It was extremely challenging," says James Eberhard, the chairman of Mobile Accord, which acts as a conduit between carriers and charities. "You needed that big event – that Trojan horse – that would convince them that this could work."
With the United Way ad, Mobile Accord believed it had found that Trojan horse. So did the carriers, who signed on in droves. The Super Bowl spot raised $10,000 – not exactly a seismic haul, but a solid showing for an ad that lasted all of 10 seconds. "We never really expected to do big numbers," Mr. Eberhard says. "We expected to open up the industry. And that was the genesis."
---