Yves Behar's vision of low-cost glasses for students
See Better to Learn Better: Inexpensive, durable – but still 'cool' – glasses from Yves Behar help Mexican schoolchildren to focus.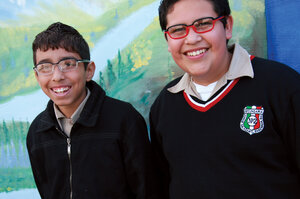 Courtesy of Fuseproject
Yves Béhar can see the swells of change from some distance. As an avid surfer, he's learned the skill of spotting a good "set" and anticipating the lift and thrust that will carry him forward.
That ability to see what's coming may be part of what has made the Swiss-born Mr. Béhar one of the elite industrial designers in the world. He's successful, in demand, and seemingly always on the cusp of what is new.
"He has no signature," says Joseph Rosa, the newly appointed director of the University of Michigan Museum of Art in Ann Arbor. That's high praise from Mr. Rosa, who says a designer's "signature," or an element that brands a design, is often a sign of someone starting to flatten out creatively and retread old ideas.
No one would accuse Béhar of that.
In the last couple of months, schoolchildren from poor families in Mexico have begun to see clearly thanks to Béhar-designed eyeglasses that are being given away free of charge.
By the end of the year, the new program, called See Better to Learn Better (Ver Bien para Aprender Mejor) aims to distribute 300,000 pairs of glasses to schoolchildren between 6 and 18 years of age – and then 300,000 each year thereafter. The effort is a partnership between Béhar's Fuseproject, the Mexican government, and Augen Optics.
---