Finding a better way to bridge the digital divide
Getting the world set up online is fine. Next: Delivering content that serves the world.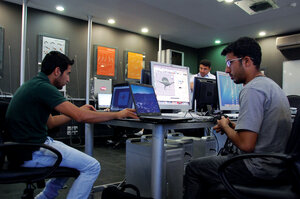 Tom A. Peter
This is the first in a two-part series on making the Web more worldwide. The second article is available here.
At a recent Internet culture conference at the Massachusetts Institute of Technology in Cambridge, a local ice-cream shop offered to make a custom flavor for the event. After some discussion, the organizers decided that it should be vanilla ice cream mixed with Nerds candies, "because the Internet is primarily white and nerdy," explains Chris Csikszentmihályi, who directs the MIT Center for Future Civic Media.
While a joke, the ice-cream flavor was also a serious commentary on the digital divide that has grown between those who created the Internet – mostly affluent, white, male programmers – and the billions of people around the globe with whom they share little in common.
There's a push among development specialists to provide more people with Internet connections and the assumption that these new Web citizens can then reap the same benefits as communities who've long been online.
This may not be the case, however. While few people dispute the value of getting the world online, many Internet experts say that current Web content has little relevance and thus little appeal to those whose lifestyle is worlds away from programmers in the United States and Europe. If the majority of the world is to use the Web for more than just a few basic functions, Internet developers must address this gap.
---