The end of the free Internet?
Asking online users to pay for content hasn't worked so far, but iPads and smart phones may change their minds about the free Internet.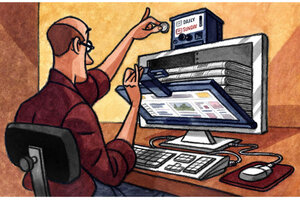 Sean Kelly
"Information wants to be free" has long been the mantra of the Internet. Once a video, a song, or a news story is on the Web, it's harder to rein in than a roomful of curious cats.
Free introductory offers are a business staple. But as a long-term strategy, "free" doesn't make much sense: How can content creators afford to keep producing if they aren't paid?
Advertising is one way to pay the bills. But Web companies are still scrambling to understand and measure the impact of online ads. Meanwhile, many advertisers remain skeptical of the medium and question how heavily to rely on it.
Now both the news and entertainment industries are experimenting again with online payment plans. Someday, 2010 may be remembered as the year when companies finally scrapped the idea of a "free" Internet.
Among the recent efforts:
• Google now is experimenting with YouTube Rentals. The new service allows companies to charge users to view certain videos, such as TV shows or movies. Content originators can also try out different pricing schemes to see how they affect sales.
• The Times of London, owned by Rupert Murdoch's News Corp., is about to erect a "pay wall," requiring online readers to spend about $3 a week or $1.50 a day to read articles. To further fend off freeloaders, search engines such as Google will be banned from linking to The Times's stories.
---