How to recycle that old Apple iPhone or Android smartphone for cash
Resale market grows for outmoded iPhone and Android models, giving new life to old phones.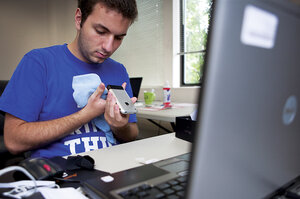 Taylor Weidman/The Christian Science Monitor
In an industrial-looking brick building on the outskirts of Boston, old cellphones are getting a second shot at life. Anywhere else, outmoded by ever more impressive devices such as the Apple iPhone 4, released in June, aging phones might have been cast away like so many Beanie Babies, Cabbage Patch Kids, and Tickle-Me-Whatevers. But not here.
Why the reprieve? Simple: Why throw out something that ain't broke?
While refurbishers have spiffed up PCs for years, a new cottage industry revolves around cellphones, which, because of advances in technology, maintain their value much longer than the popular two-year-contract cycle would imply.
Smart phones are, after all, nothing short of miniature computers. The old phones are "old" only because there's something newer and shinier in their owners' hands. They still pack potent processors and sophisticated features such as Wi-Fi and GPS capability – not to mention ever increasing storage for photos, music, and videos.
"Late adopters are perfectly happy to get phones a year after they come out – and pay less money for them," says Kristina Kennedy, senior manager at the Boston-based electronics reseller Gazelle.
---