Senior citizens carve their own niche with laptops and Facebook
They may not be "digital natives," but senior citizens find connectedness through laptops and Facebook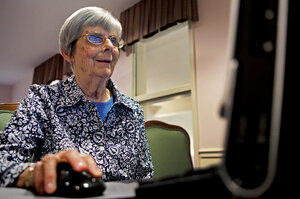 Taylor Weidman/Staff
Janeen Morel does not define herself by her age, and the septuagenarian's embrace of the latest technology is an example of that approach. Her laptop links her to world and family news and entertaining games, and it jazzes up her trombone-playing skills.
For the young who never experienced a time before computers, video games, cellphones, and the Internet, technology is a way of life. But, for Ms. Morel, and more and more seniors, the gadgetry can be life-expanding.
About 38 percent of Americans ages 65 and older go online, said a Pew Internet & American Life Project survey last fall. The 55-and-older crowd is the fastest-growing age group on Facebook, increasing by 35 percent in the past six months.
"It's good to expose yourself. You have to try something new every once in a while," Morel says in a phone interview from her Des Moines, Iowa, home. A retired Iowa National Guard officer, she checks e-mail and Facebook on her laptop each morning. She occasionally plays games through Facebook apps and browses news or other sites, like YouTube. She uses software to learn new music, and gets photos of her grandchildren on her cellphone. "It's fabulous and instantaneous," she says.
---