Creative idea? Kickstarter connects artists with online funding.
Kickstarter.com points online patrons toward worthy projects they didn't know existed.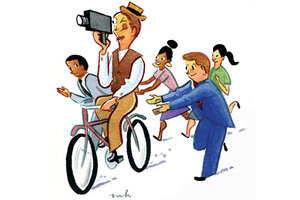 Marcellus Hall
Like many people, Aaron Dunn has a dream. Mr. Dunn wants to see all of the world's great classical music available free of charge, unencumbered by copyrights, for anyone to do with as they wish.
But when Musopen, Dunn's nonprofit organization, was ready to move on from collecting public domain music and begin commissioning new recordings of the great works, the group ran up against a serious cash crunch. Hiring a world-class orchestra is not cheap.
Musopen set a goal of raising $11,000, enough by their calculations to record the complete symphonies of Beethoven, Brahms, Sibelius, and Tchaikovsky. Dunn first tried raising money through his group's website.
"I began to have ideas that required funds and so started adding donation buttons to the site," writes Dunn in an e-mail. "I also experimented with a bid system [that] ended up not working out well."
The next step for an artistic project such as Musopen might have been to seek a grant or corporate backing, but instead the group turned to Kickstarter, one example of how the Web is turning traditional financing on its head. In just a month, Musopen had surpassed its goal of $11,000, and pulled in nearly $70,000 from online patrons.
At its heart, Kickstarter's model is simple. Groups begin by working out a budget and creating a video that explains their project. Kickstarter publishes the proposals online free of charge. Donors may pledge as little or as much as they want, but credit cards will only be charged if the project reaches the full amount of its requested budget. By using this all-or-nothing method, Kickstarter wants to reduce the danger that a project will go underfinanced and therefore fail.
---