Five new technologies that will change the world (and win at Jeopardy!)
Five forms of new technology that can change the world: From the computer that beats humans on "Jeopardy!" to cellphone apps for African pick-and-hoe farmers, to satellites that spy on human rights abusers.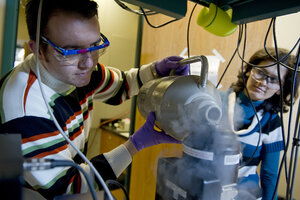 Ann Hermes / The Christian Science Monitor
Watson was an idiosyncratic "Jeopardy!" player. He wagered odd amounts of money – $2,127 – and sometimes his guesses were odder still, like when he named Toronto as an American city. Or when he named Dorothy Parker as the title of a famous writing manual (whereas Ms. Parker was, in fact, the person who wrote a review of the book in Esquire in 1959).
And yet Watson, an IBM computer, won his nationally televised game of "Jeopardy!" in February. He steadily overpowered his opponents, Ken Jennings and Brad Rutter – two of the game's all-time human champions.
In an age when computers have multiplied the productivity of workers, it is tempting for millions of people with monotonous office jobs to wonder whether Watson could outright replace them. It won't happen yet.
Between the lines of Watson's story and the half century of history that made him possible is a parable of innovation and economics with much to say about which technologies will have a broad impact on society. The most glamorous advances often didn't have that impact (supersonic air travel, for example), whereas pedestrian inventions like the Haber-Bosch process to produce nitrogen fertilizer fundamentally altered the economics of basic human need – and changed the face of the planet.
---