Google Wallet: Shop with a swipe of your phone
Google Wallet should make safe, mobile payments easy.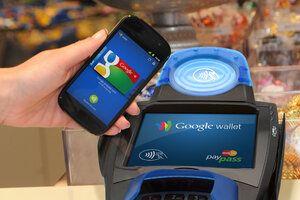 Google
Google wants to turn your cellphone into a credit card.
This week, the search-engine giant released Google Wallet, a smart-phone app that allows shoppers to purchase items with a single swipe. Hold your phone up to the checkout counter and Google Wallet will do the work of several cards at once.
It will charge your credit card or deduct money from a prepaid Google account. At the same time, the app automatically applies store coupons and accumulates points or other loyalty rewards. Yes, this could mean surrendering (more) privacy to the Internet giant that's already in e-mail, phones, and online ads. You'll need to weigh the trade-offs.
Upsides: You save time, money, and pocket space, says Google product manager Marc Freed-Finnegan.
"We want to help you organize your wallet, organize your life practically, on your phone," he says.
Google Wallet, which will launch within a few weeks, uses "near field communication" chips – or NFC. These heavily encrypted chips send out radio signals, much like modern subway cards or office ID badges. The payment information transmits out to special NFC readers, such as the 300,000 MasterCard PayPass registers already in stores.
However, Google Wallet will not work on every phone. In fact, upon its release, the Android app will run on only one device, Sprint's Nexus S 4G. But expect more phones to jump on board soon. Lots more.
---