Post oil: In oil country, maverick Nissan Leaf driver gives up gas (VIDEO)
In his post-oil world, a Texan never buys gas for his all-electric Nissan Leaf – and still gets a thrill out of putting the pedal to the metal.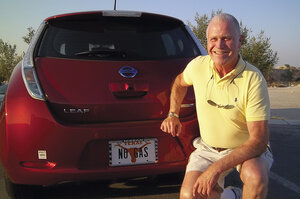 Mark Clayton/The Christian Science Monitor
Something new and a bit odd is happening here in Texas, where history and the economy are so tightly interwoven with oil: Some drivers are ditching their gasoline vehicles and turning over a new leaf – literally.
"I love my Leaf," writes William Jones, an Austin physician, in a blog of the same name devoted to the virtues of his new Nissan Leaf.
Dr. Jones's luxurious yet gas-gulping Lexus has been collecting dust in the garage since he brought home the all-electric Leaf, which has no gas tank at all.
Charging his Leaf in his garage at home, Jones uses a heavy cord attached to a pistol-grip handle to connect with the multipronged charging port in the car. The other end connects to a fast wall-charger. Or, if he chooses, he can charge with a typical – if slower – three-prong plug outlet. Because he's also signed up for Austin's "green" electricity program – juice generated by West Texas windmills – he gets a guilt-free, comfortable day of gliding around town. It's a "zero carbon footprint that costs me about 3 cents a mile," he says. "What's not to like about that?"
---