Post oil: Electrofuels are an oil-substitute minus the eons
Scientists compress the oil-forming process with a deep water bacteria to create electrofuel, a possible post oil era alternative.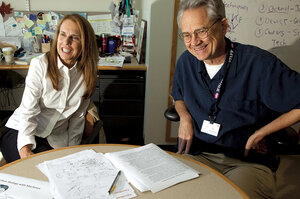 Melanie Stetson Freeman/staff
Over millions of years, natural processes turned the buried remains of dinosaurs, plants, and ancient fish into crude oil.
Pamela Silver and her colleagues aim to compress the oil-forming process to nearly instantaneous, with some carbon dioxide, a dash of electricity, and a lot of help from the diminutive star of her Harvard Medical School lab in Boston: Shewanella oneidensis, a bacteria found in deepwater sediment. Dr. Silver's goal is to overhaul Shewanella's biochemical digestive system to produce octanol, a hydrocarbon that can be refined and turned into a range of transportation fuels.
The overhaul is challenging, Silver acknowledges. But the hurdles researchers must clear to make progress at each stage in the project are significant enough that "you could succeed in one point and fail in another, but it would still be a home run," she adds.
The team is fueled by a grant from the US Energy Department's Advanced Research Projects Agency – Energy (ARPA-E). The agency is working with the Defense Department as the US military begins to shift from petroleum-based fuels to "drop in" biofuel replacements that can be used with today's internal-combustion engines.
---