Cookie sales soar as Girl Scouts adopt smart phones, credit cards
New plug-in devices from Square and Sage Mobile allow some smart phones to become card readers.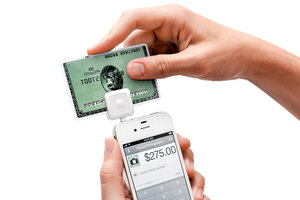 Photo courtesy of Square
Few things can derail a Girl Scout cookie sale quite like the words, "I don't have any cash."
Whether hawking Thin Mints outside the local supermarket or selling the brand-new Savannah Smiles at a booth in the mall, Girl Scouts have watched countless potential buyers walk away because the troops could only accept cash or check.
These days, shoppers increasingly rely on credit or debit cards, says John Graves, chief financial officer for the Girl Scouts of North East Ohio, which oversees 3,500 troops and 40,000 girls. So Mr. Graves turned to Sage Mobile Payments, one of several companies that turn smart phones into card readers.
"Now, when people say that they don't have any cash on them, the girls say with big smiles, 'We take Master Card and Visa,' " he says. "Everyone is pleasantly surprised that Girl Scouts have this technology. It's easier and more convenient. People are just more enthusiastic about the sale."
That enthusiasm has led to increased sales, not just for the Girl Scouts but also for small businesses nationwide. Mobile-payment companies such as Sage, Square, and Intuit processed billions of dollars in smart-phone credit transactions last year. Square alone is on track to handle $4 billion a year, twice what it expected in October.
Sage and Square both work through plastic dongles that plug into the headphone jack of iPhones, iPads, and many Android smart phones. Customers swipe their cards through the small device, then sign their name on the phone's touch screen. Receipts arrive via e-mail.
---