With Wii U, Nintendo tries to combine game worlds
The Nintendo Wii U's new GamePad controller mixes Wii and iPhone gameplay.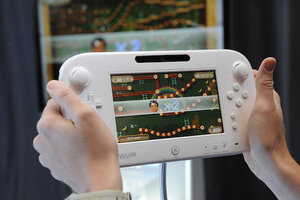 Reuters
Over the past six years, Apple and Nintendo have fundamentally shaken up the video game industry. They greatly outsold the competition by reaching out to people who had never played video games before.
The Nintendo Wii hooked kids, parents, and even whole retirement homes by presenting a controller that made sense immediately. It offered a kind of competitive pantomime. As a pixelated tennis ball hurls toward you, swing the Wii's motion-sensitive remote and your character on screen does the same.
Meanwhile, the Apple iPhone sneaked a high-powered gaming machine into millions of people's pockets. Once there, simple and addictive touch-screen games flourished.
Now Nintendo is attempting to combine the two. This winter, the Japanese company will launch the Wii U, pronounced "we, you." The new set-top box will use the same controllers as the Wii, but will also come with a GamePad, a two-handed controller with a touch screen in its center.
---