Google maps go off-road, in-doors, and to Antarctica
Google's Street View program heads to places where cars aren't welcome, such as Antarctica.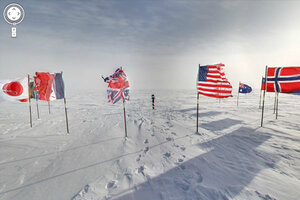 Google Maps
Interested in checking out Antarctica?
Just as Google sent a swarm of computers to map the Internet, the company has hired a high-tech army to chart the real world. Satellites snapped a bird's-eye view of the globe. A fleet of cars equipped with cameras captured storefronts and homes. Then Google tricycles, snowmobiles, and trolleys ventured to places where cars are not welcome.
Now, the search company has unveiled two new tools that extend its reach and push the boundaries of what can be digitized. Google deployed special backpacks to map wayward trails and the insides of buildings, expanding its street-view imagery to places without streets. It also unveiled a new way to create 3-D models of entire cities, accurately capturing skyscrapers, elevation, and even landscaping.
"We're shooting for literally the whole world," says Brian McClendon, vice president of engineering for Google Maps, in announcing the updates. "By the end of the year we aim to have 3-D coverage for metropolitan areas with a combined population of 300 million people."
Despite privacy concerns and lawsuits from people wishing to be removed from Google's digital atlas, the company has made mapping a key focus.
This week, Google unveiled 360-degree panoramic views of Antarctica, bringing penguins, ice fields, and the ceremonial South Pole to armchair explorers.
---