Smart phone apps that help you dodge raindrops
iPhone and browser apps create weather reports tailored to you.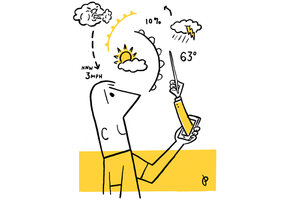 Phil Marden
The news calls for rain and those skies look pretty grim. Do you have time to run an errand without schlepping around an umbrella? Better check your phone.
The new smart-phone application Raindropping provides hyperpersonalized weather reports. The program uses GPS information to forecast the weather for your exact location.
Once Raindropping has pinpointed your position, it pulls up one of those familiar radar maps with colorful splotches representing clouds. But unlike TV weather reports, the app counts down the seconds, letting you know that it's, say, T minus seven minutes to rainfall and three hours until you're in the clear.
To keep its forecasts accurate, the software predicts only six hours into the future and reassesses the weather every 15 minutes. Even if you weren't expecting rain, an optional alert system can warn you if clouds head your way.
Raindropping works across the continental United States, southern Canada, northern Mexico, and several Caribbean islands.
The ad-supported software is free of charge for the iPhone and at Raindropping.com. An ad-free version costs 99 cents. The company promises an Android and standard-phone version soon.
---