Apple vs. Samsung: Who owns smart phones?
Why Apple and Samsung suits and counter suits still fly, and what's next.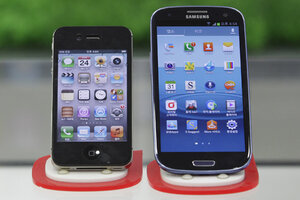 Ahn Young-joon/AP
All year, Apple and Samsung have locked horns over mobile-phone patents. The two tech giants make close to half of the world's smart phones. But Apple says many of Samsung's popular devices, specifically ones that run Google's Android operating system, rip off the iPhone. As legal decisions roll in from Germany, Australia, South Korea, Japan, and a US district court, Samsung has already been fined more than $1 billion.
What did Samsung do wrong?
In August, an American jury decided that 28 Samsung smart phones unfairly lifted ideas from the iPhone. The Korean company infringed on Apple features such as:
•Finger controls: Apple patented the idea of using one finger to scroll and multiple fingers for other interactions, such as the "pinch-to-zoom" gesture that enlarges images.
•Bounce-back: When an iPhone user reaches the bottom of a Web page, the phone scrolls a little beyond the bounds of the page and then snaps back. Apple patented this rubber-bandlike flourish.
---