Twindex: As Twitter goes, so goes the nation?
Twitter's political Twindex follows how tweeters discuss Obama and Romney.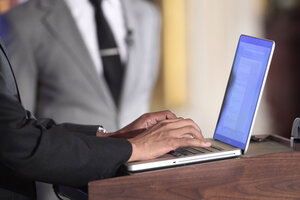 Pablo Martinez Monsivais/AP/File
With the presidential race in full swing, pollsters at Gallup call more than 3,000 registered voters every week, looking for insight into how America will vote this November.
Meanwhile, Adam Sharp, manager for government and news at Twitter, combs through a much larger pool of data: the 400 million messages posted to Twitter daily.
The microblogging website – where people share their thoughts, anecdotes, and links to articles – has teamed up with pollsters to launch Twindex (election.twitter.com). This daily political index measures attitudes toward Barack Obama and Mitt Romney based solely on how people discuss the candidates on Twitter.
It turns out that this massive, unfocused stream of information generally matches the rolling Gallup average. But Mr. Sharp says he's most interested in the times when Twindex disagrees with Gallup.
For example, he points to the military raid last year that led to the death of Osama bin Laden. Both Twitter and Gallup saw the president's approval rating spike, but the Twitter numbers dropped off more quickly. Digging into the Twitter posts (or "tweets"), Sharp's team found more messages from that time on the economy than on all national security issues combined, including the raid on Mr. bin Laden, which at the time was the most tweeted-about moment in history. Sharp says this discrepancy shows the benefit of Twitter's style of polling: It better captures everyday conversation.
---