Bettina Wulff and the trouble with fighting Google's autocomplete
Bettina Wulff, Germany's former first lady, objects to Google's autocomplete. But suing the company may make things worse.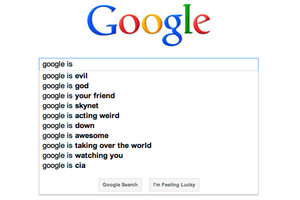 Google.com
Germany's former first lady Bettina Wulff has sued Google over its autocomplete function. As people type words into the search engine, Google suggests additional terms that have been popular in previous searches. For example, after typing in "Boston," Google's autocomplete recommends "Boston weather" and the "Boston Globe" newspaper.
However, if you enter Ms. Wulff's name, the top suggestions are "Bettina Wulff escort" and the German word for prostitute.
A century ago, such rumors might have remained as whispers among the political elite. Now, baseless accusations can appear for even unsuspecting Google searchers. The Internet has always attracted unsavory gossip, but Wulff's lawsuit attempts to keep such smears out of Google's autocomplete.
Her odds are slim. German courts have sided with Google in five previous cases – mostly over people's names being linked to "fraud" or "bankruptcy." Google won these cases because of how its autocomplete works.
"Google does not suggest these terms – all of the queries shown in Autocomplete have been typed previously by other Google users," writes company spokeswoman Amanda Chang in an e-mail.
---